Other litters:
summer 2004 - summer 2012 - winter 2012 - spring 2013 - winter 2013 - spring 2015 - winter 2015 - fall 2016 - summer 2017- winter 2018
Spring 2015
| | |
| --- | --- |
| Lars | Eileen |
Eileen and Lars are the proud parents of 3 boys and 2 girls, all black.
The pups are born on Februari 6th 2015.
Sadly the smallest boy passed away after 3 weeks.

Eileen en Lars zijn de trotse ouders van 3 zonen en 2 dochters, allen zwart.
De pups zijn op 6 februari 2015 geboren.
Helaas is het kleinste reutje na 3 weken overleden.


For more information please give me a call or send me a mail!!
Voor meer informatie kunt U bellen of mailen.
Hocline's Xtra Baltic Boy
Dutch Junior CH and Jw. 2014
Ch.Flippix Madam I'm Adam

Ch Filisite Brash Celebration

Ch. Bartos Ultra Violet

Ch. Hocline's Tabitha


Ch. Hocline's Gandalf The Grey Wizard

Ch. Hocline's Joy-Ride

Rantin Reiver's Xpress Delivery

MultiCh. Ashgate Three Penny Moon

Ch. Brueik Man In The Moon

Lomondview Half A Sixpense
Rantin Reiver's Uptown Girl

MultiCh. Sir Darnley's Magical Mascot

VeteranCH. Gulabin's Playing Promise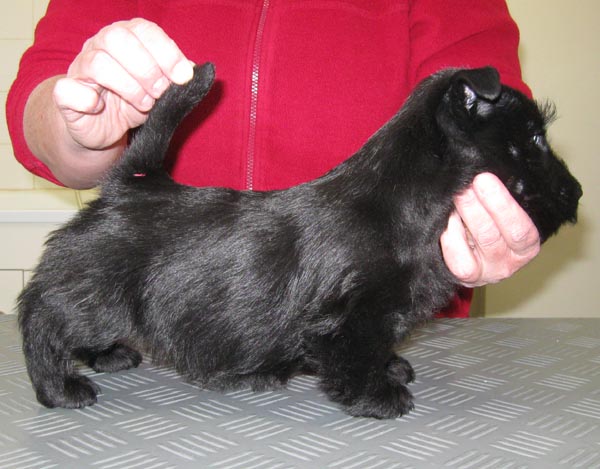 Rantin Reiver's Fortunate Fay (Maud) stays in our clan!
Foto taken when she was 7,5 weeks old.

7weeks

7weeks

7weeks

7weeks

6 weeks

6 weeks

5 weeks

5 weeks

4 weeks

4 weeks

3 weeks

3 weeks

12 days

12 days

1 week


1 week